By Lillian Tarvudd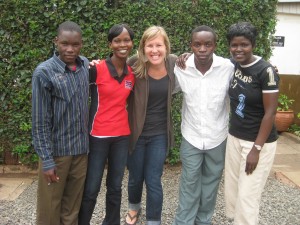 In March 2011, I made my way to Kenya to spend time with the Kenyan DRIME team. Our time in Kenya was focused on strengthening the leadership team and making a plan for their next ministry season.  The inspiring Kenyan leaders (Eva, Jackie, Geoffrey, Duncan) came up with some dreams and plans for their team…which included starting another DRIME chapter in Kisumu and a city team in Nairobi.  They are excited for what God has in store for their team and you better believe that when these people pray and believe the Lord for something, they see Him work!  I am once again amazed and in awe of the resilience of our Kenyan team.  It is based in Kibera (the largest slum in Africa) and most of the team members come from there as well.  They have very little, sacrifice a lot and are passionate about being part of making Jesus known not only in Kenya but all over East Africa.
Would you continue to pray for DRIME Kenya?  They have difficulties and needs that we cannot even begin to understand. I remember during one of our meetings, I was listening to Eva share honestly about her struggle to get money to transport her team members to practice every week when these same members often struggle to have enough to eat and how it can weigh on her as a leader.  I listened and let the tears stream down my cheeks as I thought of this faithful ministry leader who has seen her team through 5 years of ministry, sacrificing and giving so much more than I have ever needed to.  Eva has a few things to teach me about living sacrificially and for some reason in that moment I got a glimpse of the burden she carries.  Will you remember to pray for her and the needs of entire DRIME ministry in Kenya?
Lillian has been serving with DRIME since 2000.  She has traveled to Ethiopia, Kenya, Thailand and Paraguay sharing the gospel with many.  In 2006, Lillian spent 6 months in Kenya training local leaders for DRIME Kenya, which has seen fruit in the years since.  If you would like to financially support Lillian or DRIME Kenya, click here, follow the prompts and specify your gift.