By Jackie O.
[a story from DRIME Kenya]
While we were setting up to do ministry one afternoon, one of us went to a shopkeeper who was seated outside her shop and asked for an empty crate of soda to help in supporting the stereo. This woman refused and even wanted to send us away from this spot and not do ministry there. She didn't seem mad at us, but had a bad attitude and asked us why we didn't plan better in bringing our own crate for the stereo.  We set up our equipment and did our dramas like usual. In all of the dramas, there is a clear message of Jesus healing people from hurts and addictions and making them a new creation. The shopkeeper was watching as we did these dramas.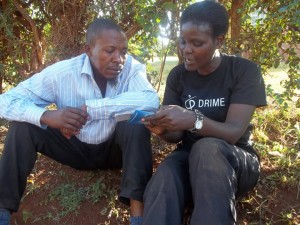 After performing the dramas she called for one of us to come over and talk to her. When she called, the first expression she had was a smile then she apologized for having talked to us so rudely. She then confessed that he could not give us the crate because she thought we were business competitors who would interfere with her business, and then told us that next time we go back to do ministry she will provide us with the power for our stereo as well!
She asked me to share the word with her, and so we shared Jeremiah 33:3: "Call to me and I will answer you and tell you great and unsearchable things you do not know."  Then I asked her if she knew Jesus and responded no. She was so glad that we shared with her, and at that moment she accepted Christ!  She seemed friendly and calm after we prayed together, which was such a change from how she acted just a few hours before. I think she was starting to understand herself as a new creature because of God's love. Thank God that she was touched, and that we could share the good news with her!
DRIME Kenya has been doing ministry on the streets of Nairobi since 2007. In May they saw 19 people accept Christ! Continue to pray for them as they boldly share the love of God in East Africa.