By Lindsey Davies
One hot and sticky day in Thailand, we were doing dramas underneath these bridges in the heart of the city. There were taxi motorcycle drivers and lots of people standing around, watching the man in the white shirt as he interacted with the other characters in the dramas. I did not speak the Thai language, but wanted to connect with the people around me, so I grabbed some tracts to pass out. I was intending to pass out these tracts to anyone passing by; instead, I felt the Lord lead me straight to a man that appeared to be homeless. I handed him a tract and tried to communicate with him.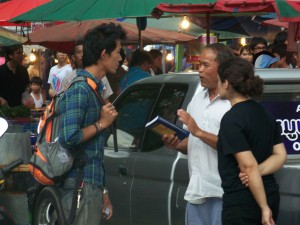 We smiled a lot and each tried to say something in our own language, but did not understand each other. I hastily glanced around for someone to translate. One of our translators was available, so I quickly grabbed him and pulled him over. He spoke with this man in the Thai language for a long time. I wanted to be a part of this conversation, but because I was unable to speak directly to this man, I stayed engaged in the conversation by just listening and prayed for the conversation as it happened.
Suddenly, I realized that both men were praying. The man, who the Lord had led me to talk to, prayed to accept Christ! God had been drawing him for some time and we got to be with him on his salvation day, seeing him enter into the kingdom of God. This was the first time I had ever seen someone pray to accept Christ, but praise the Lord, it was not the last time on this trip. I was able to witness many people pray to accept Christ while we were in Thailand. Praise the Lord!
This experience awakened my passion for sharing the gospel, and I can't wait to keep sharing with people in my own city about the man in white, who offers us His free gift of salvation.
Lindsey is one of the leaders of DRIME San Diego. Keep their team in your prayers as they begin their year of ministry this month!