By Lillian Tarvudd
In a sentence, this is the Thailand that I saw when I was there just a few weeks ago: Thailand is a beautiful, Buddhist country, and "to be Thai is to be Buddhist" to over 95% of the population.
The people there welcome the message of Jesus, hoping that "this god" might help them more than the last.  There are monuments, idols, Buddha statues, gold shrines, and altars everywhere, representing a culture that desperately wants their good deeds to outweigh their bad ones. Karma is a word that is often thrown around.  Be good enough, receive good…or the alternative.  Hope is lacking and grace is not understood.   There are full coke bottles, coins, and anything else of worth set in front of the idols in hopes that this time the god in that idol might answer their request and show favour on them.  This was the Thailand we were blessed to explore…
Then here we are…myself and a team of nine other 18-30 year olds in DRIME black clothes getting hot and sticky and uncomfortable and being stretched to proclaim the freedom we have living in Christ!  We went from market to University Campus to slum to elementary school using the tool of drama as a way to engage people in spiritual conversations.  We weren't introducing them to just another god but for often the first time, they were being introduced to God, the creator of the Universe. The Lord of all, who has a purpose for them and who sent Jesus to die to take our place…theirs included.  The good news of our freedom in Christ was being presented again and again.  .  Many during our trip decided to follow Christ for the first time and others are starting to meet up with some of our Thai friends to learn more about who Jesus is.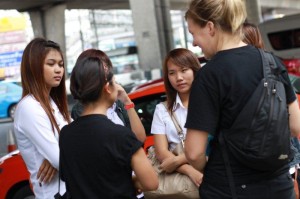 I met Noklek in one of the slums we visited. She spoke English very well, and told me that it was good that we were here for the children.  I asked her what she thought and how she related to those in the dramas.  She said very factually like many others, "I'm Thai so we're Buddhist."  I then asked her if she lived with hope and if she believed she had a purpose.  We talked about our lives and she told me that she'd never seen a Bible but would like to read one.  I left one with her and as I was leaving she said to me, "Maybe God sent you here."
Of course He did!  He is continuing to pursue Noklek—I just know it.  My friend in Thailand is going to connect with her in the next few weeks and continue to share about the love and the hope that God brings to our lives.  I am praying that Noklek will come to know the truth: that God loves her and wants a relationship with her, no strings attached.
Lillian is on staff with DRIME in Vancouver and serves as the Director of Equipping. This was her 13th mission trip with DRIME.