By Janna Cressman
When the DRIME team was here on their mission trip, I met a woman named Malee at one of our ministry times. She had many questions about God, and I decided that I would visit her once a week to continue to share about God, read the Bible, and pray with her. My friend Anun comes with me and together we are getting to know her and her family, as well as teaching them about who God is.
The last time we visited her, Anun shared from Acts 17:22-28 and taught Malee about how God is the creator of the world. Malee admitted that she always used to wonder why things are the way they are. Why it takes a man and a woman to have a child, why we are born the way we are, why there is male and female, why there is marriage, where life comes from, etc. She said she stopped asking those questions a while ago because she could not find any answers. She really liked learning about God as creator.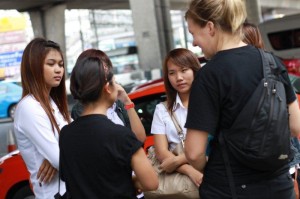 Malee also shared with us that the night before we came to visit she had a very bad stomach pain; it wouldn't go away and it was keeping her from sleeping. Her husband and children were all sick so she was the one taking care of them, and so she couldn't afford to be sick herself. So she decided to pray to Jesus and ask him to take away her stomach pain. She had no idea where that thought came from, because it never crossed her mind to pray to Jesus before. But she was desperate for help, so she did. A few minutes after she prayed, her stomach pain went away! She told us this, still a little bit in awe of the whole situation! We were so excited to hear that she was praying, and that God was answering her prayers.  We were encouraged by her story and in turn, we encouraged her to keep praying to Jesus. We assured her that he wants to hear from her!
I'm so excited to keep visiting with her, praying for her and teaching her more about the God who loves her so much! Would you pray for Malee with me? She is getting closer each day to knowing God as her personal Lord and Saviour.
Janna is serving as a base planter in Thailand until December 2011, and has been on staff with DRIME since 2009.