By Beth Brown – Sharing from DRIME Paraguay

I always forget that God is working all over the world until I get a chance to see a little part of it. I had the privilege of visiting the DRIME Paraguay team for a few days, and it was a great reminder that there are other brothers and sisters all over the world who are actively sharing their faith and making Jesus inescapable in their own city. As I met with and listened to the team share stories about what God had been doing through their team, and the ways that he was giving people more boldness to share, I was blown away.
Here is something that Guillermo, one of the leaders, shared: "I have had many conversations with many different people—Muslims, Jews, Atheists…I get to share with them all, and it reminds me that there are so many people who need Jesus. I feel a little depressed knowing that we will not reach everyone, but are doing what we can to reach some of these people."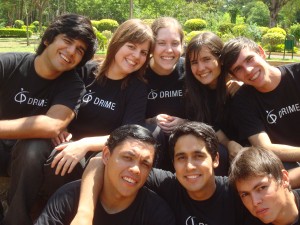 Romi, one of the team members, shared this: "I joined DRIME to challenge myself and do something better with my life. I saw DRIME and it was so good, and I thought to myself, I want to do that! It is an attractive way to share the love of God with people. God is love—that is the reason I joined DRIME."
Another team leader, Monse, shared this: "Being in DRIME has given me more confidence in talking with people at my university. I don't feel scared to talk about Jesus with my classmates anymore."
Hearing all of these stories reminded me that God is not only changing people's lives who we are sharing the love of God with, but DRIME is also raising up Christ-followers around the world who are being changed into more effective evangelists. I think back on our mission statement, where it is stated that DRIME exists to empower others for ministry as they experience drama and evangelism training, and inspire passionate, discipled leaders through purposed community." This is what I saw when I was in Paraguay—DRIME members who are empowered and inspired, who are passionate to share about Jesus with people on their own street corners, and who are dedicating their lives to sharing the gospel. This excites me—it reminds me why I am still a part of DRIME, even after all these years, and why I believe God is using it to raise up a generation of witnesses who will proclaim his name boldly and without shame.
Beth is finishing up an 8-month internship with DRIME, and has been involved with DRIME since 2006.