As we were doing dramas on a local university campus, I noticed a guy with a skateboard watching. I turned towards him and he immediately asked, "What is DRIME?" I shared with him about how the dramas are about life, and how we all have struggles, but that we believe Jesus is the answer. I asked him what he believed and he shared that he grew up in a Catholic home, but doesn't really belong to any religion. He believes that we are all connected, and that we are just children of the universe. He believes that there is something bigger out there, but that none of us can really know what that is.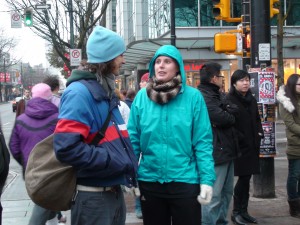 This conversation got me thinking about religion, and how we as humans have many different religions that we can choose. There is a belief system for every taste. Often when I think about Christianity, I think about what makes it different than other religions. For me, the most significant thing is that we have a friend in Jesus. I love the fact that by believing in God, I have someone there to talk to whenever I need Him, and that He is with me in whatever I do. The friendship that we can have with God isn't dependent on what we do or how good we are, but simply because God loves us and wants a relationship with us.
In a world of conditional love and good deeds, this really is a revolutionary thought. How can it be that we get the love of God no matter what we do? If you are looking for love and fulfillment, we encourage you to think more about Jesus and the love he has for you. It's there if you want it – all you have to do is receive it.