By Bethany C. | DRIME Workshop Participant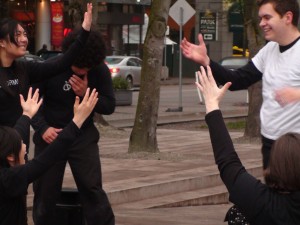 This past March, I had the amazing privilege of working with the DRIME Vancouver team. My School has a Missions program in which people sign up to be on different missions teams that serve around the world as well as locally. I signed up for the intercessory (prayer) team. Being on this team included spending time in prayer, interceding for the other teams and serving locally around the Fraser Valley. When I signed up for this team, I was a little bummed that we weren't going to be doing DRIME dramas like the other teams. Ever since my first Missions Trip to Mexico, when I got to learn and perform "Thief," I've been hooked. To my surprise, our team leaders, who also happen to be leaders of DRIME, told us that we would be serving alongside the DRIME Vancouver team. I was so excited, I still knew all the moves and I was pumped to get to do them again.
Actually performing with DRIME Vancouver was an amazing experience. They welcomed our team in even though we were much younger and had much less experience than them. They willingly allowed us to jump right into performing the dramas and they showed us how to be open about talking to people on the streets about how great our God is. I remember being a little nervous to speak to people I didn't know, but seeing the DRIME members speak so freely inspired me to do the same. I ended up having a great conversation with a young man who wasn't exactly sure where he stood in his faith. He came from a Christian family, but he wasn't sure where he stood because he had a lot of unanswered questions. We talked for a little while, I answered a few of his questions and then I laid hands on him, a perfect stranger, prayed for him, and he went on his way.
It was amazing to me how God could use me and take away my nervousness so that I could willingly pray for a man I'd never met before. It's crazy how He guides you through things you never imagined you could do! I've always loved acting and I've been involved in theatre for many years so naturally, DRIME clicked with me. I loved being able to use talent I knew I had to bring glory to God but also being able to use gifts I didn't know I had to bring Him glory. What God has planned for me, I'm not sure, but whatever it is, I hope that I can continue to learn from him and grow in my relationship with him, and help others do the same. And who knows…maybe someday I'll join DRIME!

If you're interested in receiving DRIME training for your church, click here for more information on you can be equipped to share the gospel on the streets!