Deidre G. | Centre Street Volunteer during the Calgary Stampede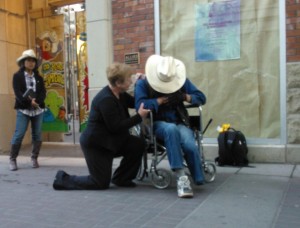 My eight days of service with DRIME was probably the second most profoundly moving experience of my Christian walk.  I had strong, intense, deep, encounters while doing DRIME ministry on the streets of Calgary. I was challenged to come out of my comfort zone that I had long been avoiding and when I did, Christ met me in the dramas and on the streets like I've never seen Him before.  The anemia of the soul I had been suffering dropped away with the blessed infusion of His life-giving blood, washing through my spiritual veins, once again.
I prayed for boldness and He gave me so much more. I prayed for physical strength and He sustained me in the huge demands on my body. I had little and most often no pain while performing!  That is in and of itself a miracle, as I have Fibromyalgia, and have experienced a lot of pain in the past. Last November I was at a juncture in my life, where I was growing increasingly more physically and emotionally crippled by this disease. But with the help of a team of doctors and relying totally on the LORD, I began to regain my life.
Hope was restored!  I had the ability to dream once more! To dream and to do DRIME on the streets of my city was a dream fulfilled. I prayed for His love to fill me for the people we were trying to reach.  Too overflowing it came to me, as I began to have a burden for the people I met on the streets.
Lately, I've come to realize I'm living in a very 'different' world, one that does not have a basic knowledge of the Bible or Jesus or even about true Christianity.  After reading Soul Cravings by Erwin McManus, I believed that now there was a fresh way for me to communicate with this generation. And, getting energized with Leonard Buhler in an evening of Life Challenge evangelism I found a new enthusiasm to share Jesus with others.
Then, the DRIME team was presented as an opportunity to use the training, skills and gifting for the express purpose of conveying the Gospel on the streets of Calgary during the 100th Anniversary of Stampede. What a privilege to be a part of such a professional group, passionate about sharing the story of Jesus (the man in white) with a world of 'hurting' souls. This was definitely fresh, effectual, demonstrative evangelism. I was humbled to be given this avenue of Life-changing service.  We had many chances to speak with people about their soul cravings. Some even allowed us the privilege of praying with and for them. We got to love, hug, cry, pray, encourage and walk through some of their deepest hurts and cravings.
Would I do it again?  In a breath!