By Beth B.
Even though DRIME ministry during the Calgary Stampede happened a few weeks ago, I wanted to share some stories that have stuck with me. God moved in powerful ways during this trip, and we wanted to celebrate his faithfulness with these testimonies.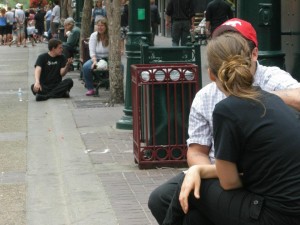 Laura (a DRIME team member) met John one day on Stephan Ave in downtown Calgary. He declared that he could not keep living the way he was, he felt empty inside and was terrified of dying, not knowing where he'd go. As they were talking, he said he saw the love of God in her eyes and felt His love when he saw he was not judged for struggling with alcoholism. Laura shared the biblical truth that if he believes that Christ is God's son and died for his sins he can be saved. John knew this, having grown up in the Catholic church, but after some bad experiences he had left the church and had sought comfort and community in other things. As the conversation continued, Laura discovered that he just wanted to die with a smile on his face and know that his sins were forgiven. After sharing some key Bible verses with him, his whole face changed, he began to laugh and shouted that he didn't feel empty anymore. For the first time, John felt confident of where he was going when he died. What an amazing day for our new friend!
One of our team members, Carolyn, feared her whole life that she was never good enough to get into heaven. Through joining the DRIME Stampede team, she learned by watching the dramas that she could be confident that she was a Christian because it's not about being good enough, but rather having faith in Jesus and knowing he died for us. She felt transformed by this knowledge, like a heavy weight off her shoulders. In May she tried to kill herself and heard an audible voice say "NO! I have plans for you." She shared her story with many people on the streets that could relate to feeling this low and wanted to know more about the God that said NO to death and YES to life.
Toby came to watch the dramas almost every day. He wondered why we were doing the things we were, why are we so committed to these dramas. Through conversations with him, we found out that he feels utterly alone and rejected by his community. By talking with some of the DRIME members, he said that he had always been afraid of white people but now counted us as friends and felt that he could trust us. One Sunday during the Stampede, we went to pick him up from downtown and brought him to church with us. Through this connection, he has since been connected to several others from the church. He has kept in touch through email, and has shared the ways in which he is learning more about Jesus and the brimming questions he has about who God is and where he is in the midst of his suffering.
These are just three small examples of the ways that God moved on the streets of Calgary during the Stampede. We know there are many more stories still to be shared.
To see pictures of ministry during the Stampede, click here.
To find out more about this God that we have been talking about, click here.