Here are a few great stories from our most recent mission trip to Mexico from a few of the team members!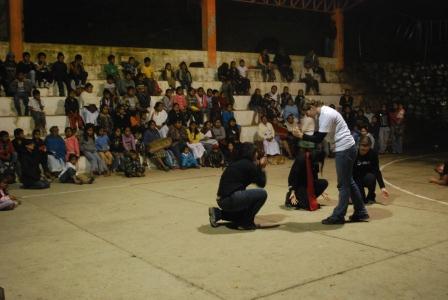 By Shirley J |Mission Trip Participant
Seeing God Move in the Mountains
My experience in Cuautamazaco, Mexico, was life-changing for me. Many people heard the gospel, some for the first time.  Each evening we had games for the kids, a DRIME presentation and then the Jesus film. We also had a part in the construction of a church building and visiting homes up mountain paths to deliver care packages. One morning, I was on a team that visited Francine, a young mother of 5 who had prayed to receive Christ the previous evening.  She welcomed us into her humble home.  I had the privilege of taking my turn to care for her 4 month old baby boy and entertain her daughter Antonia, while Francine was given a Bible and shown how to find specific verses for follow-up.  The Mexican team members spent time with her making sure she understood her commitment to Christ.
Further on down the road, we stopped at another simple brick home. I had been at that home 2 days earlier and the husband, Frankie, through tears, had admitted to having an alcohol addiction and had asked for help, so the team prayed for him. Here I was at the same home and this time he prayed to ask Christ into his life after the gospel was given to him. He was overjoyed when given a Bible of his own. I thank God for this opportunity of seeing God at work in a mountain village in Mexico.
By Elsie B | Mission Trip Participant
Learning to Love
On the last night we were in the village, we watched the Jesus film. We played a few games and the kids could not get enough of us. The kids would try to hold on to any piece of their new Canadian friends that they could find. One on each hand, one on the elbow, one holding my forearm – it was quite funny. During the movie there was no difference. I was surrounded by at least 8 girls who just wanted to be touched and loved. At one point in the film I just held the hand of one of the little girls and was snuggling with some girls beside me when I became aware of the perfect love that was happening in the moment. I was not the only one giving out love in this moment, the girls were giving me love too. My heart was filled at that moment with a love that I have never experienced before. A love that is so peaceful, and so fulfilling, I never wanted the moment to end. It is with experiences like this where I am humbled and I realize how much love I truly desire and how easy it is for me to just reach out and hold the hand of God, because he will return that gesture of love so fully.
To see more pictures of the trip, click here! To check out our 2013 mission trips, click here.