DRIME Kenya recently went on a mission trip to Bungoma. Check out some of their amazing stories! 
Geoffrey and Eva talked with a middle-aged man named Keith during one of the drama presentations. At the beginning of the conversation he insisted he didn't want to be saved; he admitted he was a sinner and was going to hell. Geoffrey and Eva pressed him about why he didn't want to give his life to Christ. This conversation lasted two hours, long after the rest of the team had finished the dramas and returned to the church. While the conversation continued a pastor, who had come with the team, stood nearby and was praying. Finally Keith said, "I don't have any excuse anymore, I need to give my life to Jesus!" Geoffrey was encouraged by this conversation; he realized that giving up work to come to Bungoma with the team was worth it just for this man to be saved!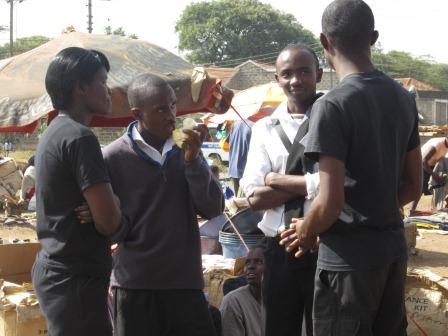 Eva, one of the leaders, reported to me that the local church was very encouraged by their visit as the team not only spent time doing street ministry but also training 70 youth in drama and evangelism.  "The youth told us they have never done evangelism before," said Eva, "they have never shared their faith because they didn't know how." The team spent extra time training the youth in how to share their faith with others. As the week went on, they were overjoyed to see more and more youth get into spiritual conversations during ministry times.
Want to know more about our Kenya team? Click here for more stories and pictures!

To stay in the loop about what is going on in Kenya and in the DRIME community around the world, click here for more info!