By Tanja D. | A story from DRIME Paraguay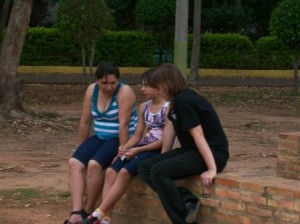 One hot afternoon on a day of ministry in a local park near Asunción, Mary, a volunteer with another evangelism ministry, decided to come out for an afternoon of ministry with DRIME Paraguay. She and I met a woman named Maria. Maria sells some goods at a local market and was on her way home from work when she noticed the dramas in the park. She sat down to watch the dramas when we approached her and sat down beside her to see if she knew what the dramas were about. She told us that she understood something about what was going on in the dramas.
We explained more about God's grace and Maria started sharing about her life and the difficult things that were happening to her. She told us that she was tired because her husband was sick and could not work anymore, that her brother had died a few months ago and that her children did not come home anymore. She seemed very desperate and wanted to leave quickly.
We asked her if we could pray for her and she said: "Okay, but I have to get going soon." So we prayed for her and her family. When we had finished praying, Mary looked at up with tears in her eyes and said "Thank you! I didn't want to stop here at this plaza because I have to get home to prepare something to eat for my sick husband, but it is so hot today, I just had to rest for a moment here in the park. How fortunate that I stopped when you were presenting and came to talk to me…"
This is a great reminder that no conversations that we have are by accident. Because Tanja and Mary stepped out in courage, Maria had a chance to feel more peace about her situation.
Have you ever had an experience like that – where someone approached you or you stepped out in faith and approached someone and the result was life-changing? We would love to hear about it – leave a comment below!
To find out more about DRIME Paraguay, click here. If you want to receive DRIME's monthly e-newsletter, you can subscribe here.