DRIME recently did a training workshop in Calgary, training young adults in drama and evangelism training and then putting those skills into practice that evening on the streets of Calgary. Here is a story of one conversation that happened that night.
(By Laura B.)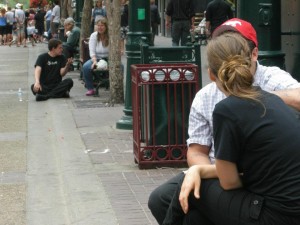 Nick was a 20-something young man we met downtown Calgary. Like many others, he stopped to watch our dramas, but he had a bit of different story than we normally hear on the streets. He described to me a fear that he felt every time he walked into his bedroom at home. He shared that "it's like there's this dark presence that reminds me of death, sometimes it follows me around and clings to me." We described to him our belief that prayer in Jesus name can cast out a dark force like this and asked if he'd like to pray against this force. Nick vehemently nodded and exclaimed "yes" and invited our whole team to gather and lay hands on him as we prayed. He noticed an immediate difference inside himself and experienced a warmth in his hands as we prayed – despite the -10 weather that evening.
A week later Nick came to a young adults night with one of team members and reported that the dark presence was gone! He began to wander around the room, sharing with Christian and non-Christian alike his "testimony" of healing and feeling his hands warmed at the power of Christ's name. It was the first time Nick had set foot in a church since he was in grade 1, and we believe that it will not be the last.
Interested in doing ministry in Calgary this summer?
Consider applying for our mission team, heading out during the Stampede to do ministry on the streets! (July 4-14)
Click here to find out more and here to start your application (though Power to Change Canada). You can also watch a short video to get a glimpse into what a DRIME trip looks like.