By Ali W. | Calgary mission team member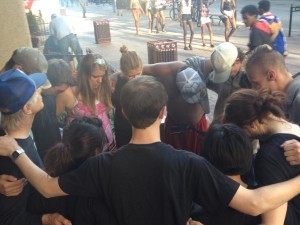 Time and time again, I have been completely blown away by how God has blessed me, and how He has taught me about community.  When I think about our trip to Calgary, what overwhelming comes to mind is John 13:35, "By this all people will know you are my disciples, if you have love for one another".    Before the trip, I was confused, at best, to how that could be true.  I would not have imagined that, only a few days after meeting my team, I would have been a part of a community that was constantly the recipient of marveled comments on how there was something different about us, how free we seemed, or how close we were.  They came from everywhere: spectators of the dramas, people we met during our free time, evangelism teams that joined us.
Still, more than "evangelizing" by simply loving each other, the freedom I felt from having a team that was so focused on God and that so supported and loved me did something to my heart that translated easily to ministry time.  I found myself bolder, more open to share my experiences, and more able to be compassionate and understanding.  It was something that felt bigger than what can be described in words, how much better messengers of the Gospel we can be just by genuinely loving each other.
Want to see more pictures from the Calgary trip? Click here. 
Is there a time where you felt like you were in community? What did it feel like? Leave a response below!