By Maria G. | DRIME Paraguay Member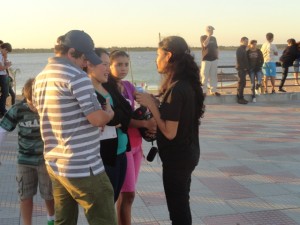 Jessica is a young girl we meet one afternoon during a time of ministry. She saw us on the streets doing dramas and after she watched for a while, I went over to talk to her and ask about Jesus. She told me about her life and the struggles she has been having with his family, especially with her mom.
Her mom was there that afternoon and was also watching the dramas. Jessica told me that never found the love that she needed in her mom, and one time her mom had told her that she never wanted to get pregnant and have Jessica in her life. As a result of feeling unwanted, Jessica tried many times to end her own life.
I told them about Jesus and the love he has for us and about the salvation that he offers. Right there on the streets, they both accepted Jesus in their lives. We were so excited that they accepted God's call, and encouraged them to follow God for the rest of their lives.
God is clearly moving through the team in Paraguay!
Click here to support a DRIME Paraguay team member this Christmas as they share the gospel on the streets!