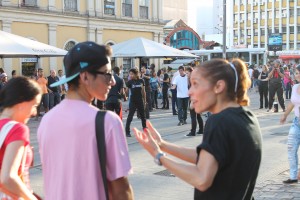 Last month, our leaders from 8 different countries teamed up to go to the streets to do what DRIME is known for – making Jesus known through drama on a busy street corner!
In Porto Alegre, we had the perfect opportunity to share with many people at the same time. Here are some of the highlights from our ministry time: 
I was able to talk to 2-3 people and it impacted me that even though we spoke different languages I was able to connect with them. Before I came I felt like I had a gift from God, but the gift was for the other people. God has a plan for them and he used me, from Mexico, to bring a gift to these people. This was amazing. The glory and the honour be to God!    –  Karla, Mexico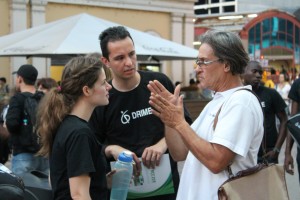 When I was speaking to the crowd after one of the dramas, I saw one man who was watching me very intently. I went up to him afterwards and I found out he only spoke Portuguese. I called another DRIMER over to me to help me translate. He told me he had somewhere else to go today, but he came to the square where we were instead. He knew his relationship with God was not where it should be, but he didn't know how to change it. I told him, "It starts with asking God to change your heart." That was difficult for him to understand – he started to tell lots of stories of pain and not having anyone in his life.
He told me, "I just need an expert in Psychology!" I responded by saying "I'm an expert! I'm a counsellor." I told him to pay attention to what was in his heart, and he began to cry and say there was so much pain in his heart. I told him that was why he was here today. God wanted to reach that pain that was in his heart. Then we prayed for him. I don't know how much he understood, but I could see in his eyes that something was happening. I am praying that God continues the work that God was doing in his heart.  – Laura, Canada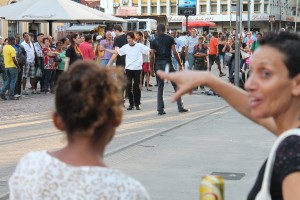 When I came to Brazil, I learned more about the dramas and the importance of the excellence in the dramas. It's always easier for me to talk to people in the crowd instead of doing the dramas. Today I realized that because of the excellence of the dramas, I didn't need to speak anymore. I talked to 3-4 people who were watching the dramas and they were crying. I asked "Why are you crying?" They responded, "Because of the dramas!" If we do the dramas with excellence, sometimes the people will just see, and God will do the work.  –  Romi, Paraguay 
Overall, it was a very powerful time of ministry and we were blessed to be there and be a part of what God was already doing on that street corner in Brazil.
Want to know more about the Base Leaders Summit in Brazil?
Click here to read more about our week together.
To see more pictures, click here.
To see a video that shares some highlights, click here.