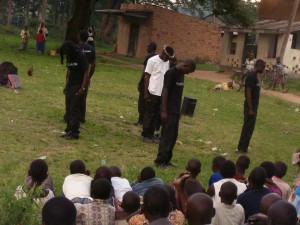 Today DRIME Kenya shares some stories about how God is using their ministry in Nairobi and the Kibera slum. 
We trained a small team in some of the dramas, and one member said that at first when one of the leaders was explaining in the group, she thought we were some of the funny groups who come from the slums that use performance to make a living. However, after hearing and understanding the story of the dramas, she got the inside meaning and it even transformed her life completely. Now she's a committed member of the team we trained.
We had a DRIME member that we served with him some years ago and after 4 years he came back and joined us again. He shared these words with us: "Truly the DRIME ministry is a team that walks after God's ways. Many teams I know and have been part of have collapsed but DRIME still exists." Then he asked us, "What has made you stay together as a group until now?" We were happy to share that the answer is that we have kept Christ at the center of this Ministry.
One of the pastors that we connected with shared with us: "Many times you've visited his church doing ministry but I have just come to realize how effective the tool is. The materials you have for evangelism have impacted my life."  We are glad to share that he has started using the material in teaching the congregation on evangelism.
We trained some youth at Cornerstone Church and they used the dramas to reach out at a Rehabilitation center. There 7 people gave their lives to Christ and they have been connected to a pastor at the center.
Whenever we do ministry with other churches they really find it as a pleasing tool to use in sharing the word. They recognize that DRIME has unique evangelism skills to share the gospel.
Want to know more about DRIME Kenya?
Check out their Facebook page for ministry updates and pictures
Click here to read more stories from the streets
Watch the video below to see what they've been up to for the past 2 years