By Michelle W. | Mission Team Member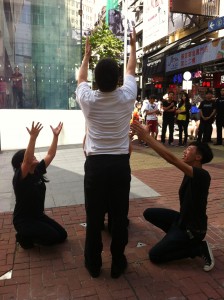 On a 32 degrees summer afternoon, we arrived outside of the huge Apple Store in Causeway Bay ready to do dramas – only to be stopped by a security guard who told us that we could not trespass in a private area. Discouraged and drenched in sweat, I thought it could not be more mistaken that we traveled so far just to do ministry on a street corner with a dying speaker.
It turned out, as always, that God selected that very location – because he knew that there would be drivers, tourists, and delivery men who would stop at that street corner for unloading. And they needed to hear about God's love for them.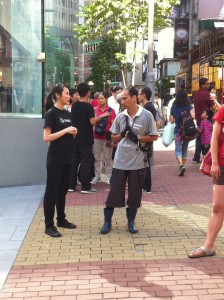 About a few seconds into our next drama, our speaker suddenly ran out of battery. At that very moment, a deliveryman who was pushing a cart stopped to see what we were doing. I walked up to him and asked if he had been watching us for awhile. He said that he had only been watching for a few seconds, but could guess that the "man in white" in our drama was Jesus. It turned out that this man used to go to church, but because of his lifestyle, he felt that he could not go back to God.
I shared the story of the Prodigal Son with him, and told him that God is like that father in the story, who waits in expectation and love for His son to return. Often we think that our Father God is an angry and aloof God who demands that we never make a mistake – but more than anything, God wants His children to know His heart and His love for them. Although I may never see this man again on earth, I trust that God will continue to grow and nurture the seed that has been planted that day, because He is a Father who does not give up on His children no matter how far they have gone.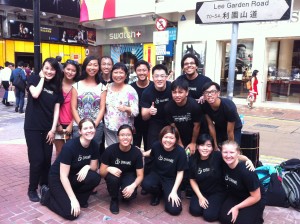 As the team reflected on what happened that afternoon, we knew that although it was only a very short ministry time at a street corner with a short-lived speaker, seeds have been planted in the hearts of the people in the Apple Store, upstairs-barbershop, drivers who were waiting in the delivery area and tourists. Perhaps on that day when we party in Heaven, we may hear someone share that they first heard about the man of Jesus at a street corner in Causeway Bay.
As I'm looking back to these two weeks of my life and recalling my teammates perform dramas and talk to people on the streets, I learned that we all have a choice everyday to do things that will remain for eternity and those that have no impact on eternity. I have tasted the joy in seeking God's kingdom and knowing that He takes care of the rest. 
This story is from our mission trip to Hong Kong last month. Check out another story from this trip or see some pictures here!
Also, click here to sign up for our e-newsletter so you get all the latest news from our teams around the world, and hear ways on how you can be involved.