A few stories from our DRIME Toronto Team
I approached a man and asked who God was for him. He said he didn't know how to explain and he didn't know who Jesus was. I asked if I could elaborate on that and he allowed me to. I talked about how much intimacy God wants with us and explained the reason why Jesus had to die. As the conversation went on, I asked if anything made sense to him. He said "yes" and also that he was feeling something different than when we started the conversation. I prayed for him and left him with more information about who Jesus was, and how he could become a Christian.
(Story by Hebecah)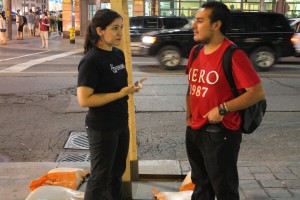 I had a conversation with this skateboarder who was waiting for the rain to dry up. As we waited, we talked about the purpose of our lives and were able to make a connection with him through our different arts. My witnessing partner shared her testimony and part of the Gospel. He was open to listening to her story, and then we prayed together with him.
As we parted, he shared that he also has Christian friends who would love to talk about their faith with him. We know God will continue to work in his life through his Christian friends.
(Story by Sarah)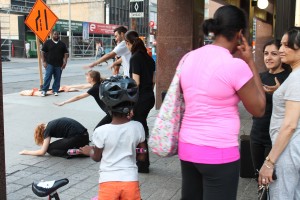 One day on the streets, we approached two women: one of them was Hindu and the other a Christian, who agreed with her friend that Christianity wasn't the only way. We explained that the Bible says that Jesus is the only Way, the Truth and the Life. The Hindu girl, whose parents are Christians, think that Christians are presumptuous by affirming that they are the only true religion.
I said that I once used to think like that, but that encountering Jesus had changed my life. We asked if we could pray for her knees, and she received prayer. As I prayed, I felt the presence of the Holy Spirit, and when finished her facial expression had changed from anger to peace and joy.
(Story by Lesley & Hebecah)
These are small glimpses into what a person's willingness to have a spiritual conversations on the streets can make a change someone's life. Sometimes we simply plant a seed or change someone's view of Christianity, and we know that God continues to work in their lives long after we have a brief encounter with them. 
Interested in doing ministry in Eastern Canada? Stay tuned for more information about our summer mission trip to Ontario/Quebec!