Our Vancouver team regularly goes the streets to share the love of Jesus through drama and one-on-one conversations. Here are some stories from this year of ministry. 
Light on Halloween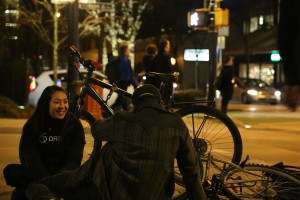 Since Halloween fell on a Friday night, we did ministry as usual that night. A tear-filled man named John, who was visiting alone from South Korea, approached us and explained why he was emotional. He was wandering the streets and started feeling overwhelmed, overcome with sadness, and felt cornered by what he said was "darkness all around him." He then started to hear music, followed it, saw the man in white and said he instantly felt peace at that moment and couldn't help but tear up. Pray for John as he continues to discover God's peace that surpasses understanding.
Sh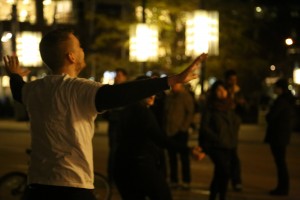 e Was Ready
On a cold fall day, yet felt more like winter, Janet stopped by the streets to see what was happening. What she wanted to know more of was who the man in white was. Life seemed good for her but something was missing and she couldn't put a finger on it as to what that was. A DRIME member was then able to let her know that the man in white (Jesus), was able to give her more than she could even begin to ask or imagine for.
Janet was excited to see that God loved her and wanted her to have this new life. Janet needed to be there that night and she knew it. Even though it was cold and she was hungry, that did not seem to phase her. She was pulled to watch the dramas and her life was about to be changed. She was ready. Ready to accept what Jesus did on the cross and start life fresh and new.
Even before our team met her, God was at work in Janet. That night she knew that what she wanted more than anything was to commit her life to Christ. So she did.
Our Vancouver team will be starting ministry again at the end of this month.
Interested in joining or want to come connect with us on the streets? Click here to get more information and see our street ministry dates!