A story from DRIME Hong Kong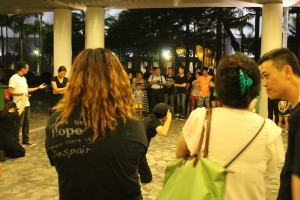 A street cleaner named Cindy came across our DRIME team as we were performing dramas. She said she saw our team at this same location in August 2014, when the missions team from Canada was here doing ministry with us. The dramas had caught her eye then but she had been too busy to stop. Today she decided to stop so she could watch more of our dramas.
A DRIME member walked over to talk with her and she quickly admitted that she was an atheist. She had visited church once in her life but did not understand the teachings.  Our team member was able to explain a drama to her and share who Jesus is. She prayed that this lady would have more opportunities to hear Christian teachings so she could begin to understand and know more about Jesus.
God is clearly working in Cindy's life by bringing her back to our team and not letting her forget the message of hope that we proclaim. We are praying that Cindy's heart softens towards him. Would you pray that with us?
DRIME Hong Kong is our newest international team, and just launched in November of 2014.
Want to know more about the team?