Stories from our DRIME Benin team
"I Gave up on Him"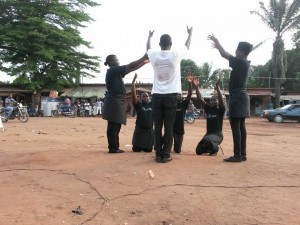 During a ministry time in Calavi, I had the privilege to talk with Romaric. I was in a drama when I saw him, sitting on his bike watching the dramas and he seemed really interested. So after the drama, I went to him and started a conversation. I explained more about the dramas and asked him if he already had Jesus in his life.
He looked down and after a few minutes said: "I had Him in my life but I stepped back and gave up on Him." Then he shared a bit with me about how facing some difficulties he went to vodoun priests seeking for the solution. I told him he would never find freedom in Voodoo. I encouraged him to restore his relationship with Christ. He was ready to make a change in his life, so I helped him pray and confess Christ again.
"This Time Was Different" 
During one of our ministry times last year in Cocotomey, I spoke with a woman named Gloria. As we were talking, she confessed: "I am a vodoun disciple and it's not the first time for me to hear this message. Every time before, I resisted. But this time was different; I felt like something bigger than me was pulling me out of my house to listen." 
At the end of our time of ministry, we did an altar call. Gloria chose to come and seek freedom from voodoo and give her life to Christ!
As we continue to share the love of God with people, we are finding that he has a plan over the life of all his children. Praise the Lord!
If you'd like to hear more about DRIME Benin and our teams around the world, you can subscribe to our e-newsletter for updates and ways to be involved in the ministry.