By Jamie A. | Mission trip leader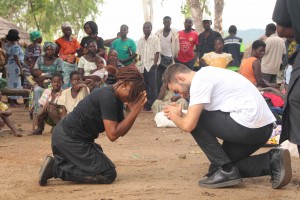 One day during our mission trip to Togo, we were on our way to a village a few hours away. On the way, we stopped at another village to do a small time of ministry. We figured it would be 45 minutes or so to do a few dramas and then we would be on our way. We had no idea of God's plans for that ministry time.
After the drama set, I noticed a woman crying, so I approached to ask her what was wrong. The woman, named Patricia, confessed that she was caught in a life of sin and was on her way that day to go to the beach to get drunk. On her way to the beach, she saw our drama performance and then stopped to watch. God had clearly intercepted her path to get a message across to her.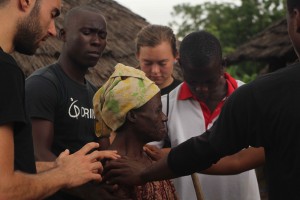 The man in white, who represents Jesus in each drama, stood out to her and she began to weep as she watched. "God loves me so much," she kept repeating as she shared with us. God touched her heart as she saw the gospel presented in the dramas. Patricia's encounter with our team reminded her of God's love for her, and we got to be there to simply bless and encourage her.