Sometimes we get the privilege to build relationships over a longer period of time, even on a busy street corner in Downtown Vancouver. DRIME Vancouver shares some of these stories from a recent time of ministry.
"Over a year ago, we were here for street ministry and it started pouring rain, so we went under the parkade to pray and ended up meeting this guy called Ray. He said he was really lost and searching, and he seemed really dejected. He had just started going to church a little bit, but he was quite unsure.
"Seeing him tonight was completely different. He was so full of joy and so confident of God's work in his life. He told me that he has 20 pages left before he finishes the entire Bible, and that he delights so much in learning more about God. We don't often get to see the impact after a conversation, so it was so encouraging to see Ray again, and I am so excited for him. Praise God!"
– Jamie A.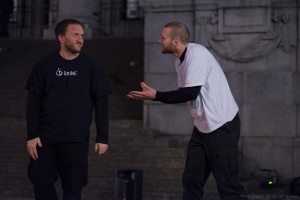 "I've talked to Rick a few times over the years, but today was the first time he seemed excited to meet me. The first time I encountered him I remember him yelling at us, completely drunk. The last couple of times I've met him he's been sober and happier in general. He's a strong believer in karma, but today he admitted that maybe there's someone behind the 'karma', which I've never heard him say before. It's really encouraging to see the change and to see him excited to see me."
– Zac B.
If you'd like to receive specific prayer requests from the DRIME Vancouver team, you can get in touch using this address. Also, you can sign up for our monthly e-newsletter to get updates about our teams around the world!