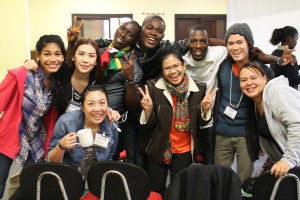 In exactly three weeks, 32 of our DRIME leaders from around the world will be together in Bangkok, Thailand. For some leaders, this will be the first time they have ever left their home country, and for many of the DRIME leaders, this will be the first time they have ever met each other.
The DRIME Leadership Summit is an event that DRIME puts on every two years for our local leaders around the world to help them become better leaders and to encourage them in their ministry. The week is a full line-up of leadership training sessions, break-out sessions for our leaders from the same region to talk together, and working sessions to provide leaders with practical skills for leading their ministry (communications, budgeting, etc.). We also always have a time of ministry together on the streets, and well as provide time for our leaders to get to know one another at meals and over friendly games of Dutch Blitz!
This week is an incredible encouragement for our leaders as well as for the DRIME staff. It is a once-in-a-lifetime opportunity for many of our leaders.
We have raised money for almost all of our leaders to go, but still need to raise about $2,500 more. Would you partner with us to help give this incredible opportunity to our DRIME leaders from around the world? Click here to donate. 
If you want to know more about our past Summits, here are some blogs and a video that you can watch to catch up on the highlights from our last Summit in Brazil (2014)!