During the 2016 DRIME Leadership Summit, we had the opportunity to do ministry on the streets of Bangkok as an international group of DRIMERs from nine different countries. Here are two stories from some of our leaders and their experiences on the streets: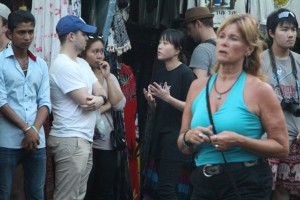 The day that we did street ministry, I prayed to God in the morning to let me have at least one conversation during that outreach, because to share the gospel in English is not easy for me, as my mother language is Cantonese. The Lord listened to my prayer, and that afternoon I had seven English conversations during our outreach time. I shared my testimony and told gospel to many people in English! This really encouraged me that to share the gospel in English again when I back to Hong Kong. After seeing my prayer answered, I have experienced that "in Jesus nothing is impossible." Praise the LORD!
– Gigi, DRIME Hong Kong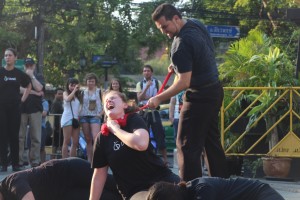 While doing street ministry, I saw this girl sitting and watching the dramas keenly. I approached her and asked if she understood what is happening, and she said no. So I explained the dramas to her. While talking she asked me, "If there is a God, why to bad things happen to people?" I responded, "Bad things like what? Could you share what you mean with me?"
She gave me a sharp look with tears almost running out. I said, "It's okay if you don't feel like sharing." Suddenly she started talking very freely.
She told me "I am from Germany, but two weeks ago I was raped on the street while walking here in Bangkok and my case is at the court." I shared with her my testimony, scriptures from the Bible on how God can change her life. After a very long conversation, she felt convicted by the Holy Spirit. I prayed with her and she gave her life to Christ that very day on the very streets where she had been hurt just two weeks before.
– Eva, DRIME Kenya
You can see more pictures from our time of ministry in Bangkok last month – click here!