By Miki | Macau Mission Trip Member (From DRIME Hong Kong)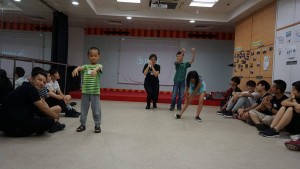 There are many fond memories of this amazing mission trip to Macau. For me, the SY blog workshop was one of the most precious experiences among them. On Day 2, when we held the workshop, I was assigned to be an assistant trainer for a group of kids aged 5 – 10. According to my professional knowledge, learning and remembering all of the steps in two hours is a very difficult thing for kids at this stage, not to mention that they had to do it on beat. I was grateful to God for allowing me to spend 2 hours with the kids, but I was worried that they might not be able to learn and remember all of the moves.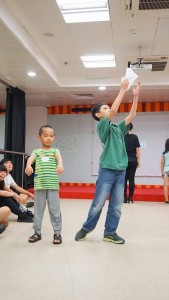 Although there was not much we could do, our Lord made the impossible possible. Children learn things quickly. After the kids knew it was a pretty difficult task, they were focused in those two hours. During the live performance session, they were able to perform the drama smoothly despite the fact that they needed assistance for some steps. I believe that gospel had already been seeded deep down in their hearts. The picture is beautiful. It made me feel like Lord of Lords did came down on Earth. We learn to be humble as a child does, simply kneel in front of him, and give our truest hearts to him.
It seems that I saw the scene from heaven.
"Truly I tell you, unless you change and become like little children, you will never enter the kingdom of heaven." -Matthew 18:3
Check out more pictures from DRIME Hong Kong's mission trip to Macau!