By Samantha Pasielski
During our last day of ministry with the DRIME Canada missions team, we went to a university to perform dramas and share the gospel with students on campus.  After performing a drama, I went into the crowd to see if I could explain the dramas to anyone and strike up a meaningful conversation. I started talking to some students and a translator just showed up out of the blue. Those students didn't stay around long but since I had met a translator, I said, "Let's go find some more people to talk to." So we walked around to a place where there was a group of girls sitting and watching the dramas. One of those girls was named Anchali.  I started to try and explain what was happening and who Jesus is, however, I felt myself getting stuck and not knowing what to say. One of my two translators stepped in and shared her testimony and the other girl translated to English for me so that I could understand what was being said. It was great to see the gospel being shared, even if it wasn't by me, and during this conversation I just kept praying for the girls that we were sharing with and for God to give my translators the words to say. All of a sudden, one of my translators told me that Anchali wanted to accept Christ!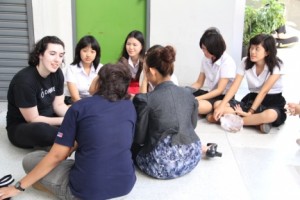 This was amazing!  I was grateful that God had used me as a gateway to allow Sarai, my translator, to share her experience with Jesus with Anchali. I hadn't expected that any of these girls would be interested in accepting Christ into their lives, but it was so amazing to see God use us to touch these girls' lives and have Anchali's eternity be changed! I found out a few seconds later that they expected ME to pray with her… and I was very nervous!  But I was ready for God to use me, and prayed that He would give me the words to say.  Right then and there, on the ground of this university campus, I led this woman in a simple prayer to ask Jesus to come live in her heart.  It was so exciting!
We gave her a Bible so that she could continue to grow in her faith and learn more about this Jesus that she just asked into her life.  It was such an interesting experience— praying sentence by sentence, hearing every word repeated in another language, and leading someone to Christ when I didn't feel like I knew what words to pray. I had to rely solely on God that He would lead me through that prayer for Anchali to accept Him. That day was an incredible opportunity to be a part of God's plan in Anchali's life—I'm so grateful that God was able to use me!
Samantha is currently serving in Thailand until December 2011, planting a permanent extension of the DRIME ministry. Keep her in your prayers as she continues to build into DRIME Thailand!