Stories from street ministry in Kibera, Kenya
During the DRIME Base Leaders Summit, a lot of training was done with the leaders, but we also wanted to engage in the heart of the ministry—sharing the gospel with people on the streets! On March 8, we went to Kibera, a local slum in Nairobi, and did ministry together as a family of DRIME members from 6 different countries. God certainly moved – check out some of the highlights from our DRIMERs!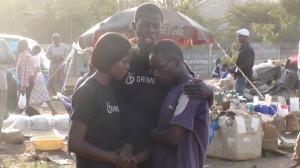 I met a man named Nick. I had the opportunity to share with him the plan of God about salvation. He finally decided he wanted to accept Christ! We prayed together, and I am so happy. (Martin, Benin)
I talked to 2 ladies, a mother and a daughter. They wanted to become Christians, and so we prayed together. They were so grateful to hear the good news! They now have Jesus as their Saviour. We prayed that they would know more about Christ, and exchanged contact information. Praise God for our new sisters in Christ!  (Kung and Kong, Thailand)
God is working here this afternoon! Even though we have met lots of people who are Christians, they still want to know more about God and about the ministry. I put them in contact with members from DRIME Kenya, and they are interested in getting connected to DRIME. We also shared contact information, and we will keep in touch. We will be praying for each other even though we don't live in the same country! (Olivier, Benin)
While doing street ministry in Kibera, I met a man named Paul. He was so open to the gospel from the beginning of our conversation. I shared about faith and how he could get have a relationship with Christ, and he decided that he wanted to accept it! I connected him to a DRIME Kenya team member, and they exchanged phone numbers. Paul will be going to church in Kibera with his new brother in Christ! (Maura, Brazil)
I had a great conversation with a man named William and his daughter Edith. He had heard the gospel before but was unsure of what would happen to him after he died.  I had a chance to share with him about he could be saved by grace through faith. He prayed to receive Christ, and we wrote it down so he would always remember that day. He also said that he will come to church on Sunday. Praise the Lord! (Tanya, Canada)
The Lord moved in powerful ways that day! At least a dozen Kenyans accepted Christ, and were connected to local churches and members from DRIME Kenya for follow-up. Praise the Lord for the opportunity to make him known in Kibera!