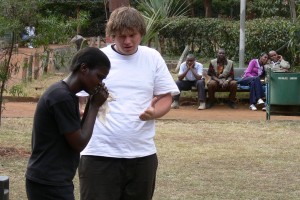 After doing a typical DRIME performance in Nairobi, a woman named Susan came up and asked about a drama she had seen. This drama portrays Jesus healing 3 people who all have ailments: a person who is weeping, one with a hurt leg, and a blind person. After he heals them, he takes those hurts on himself. He then dies on the cross and then comes to life, whole and healed, while the three people praise him.
Susan asked Eva, a DRIME member, "Is this story true?" She then went on to tell Eva that she has a patient in the house who had been sick for a while. "If it's true that Jesus healed the lame, blind and wiped away the tears of the weeper then I think it's also my time he wipes my tears," she stated. She then asked Eva to pray for her and the patient. She left saying that she believed that the patient was healed.
The following day she came and testified on the healing. What a mighty God we serve! As it says in Isaiah 53:4-5, "Surely he took up our pain and bore our suffering, yet we considered him punished by God, stricken by him, and afflicted. But he was pierced for our transgressions, he was crushed for our iniquities; the punishment that brought us peace was on him, and by his wounds we are healed." 
Is there anything you need healing for? Maybe not even a physical ailment, but if you need the healing touch of Jesus, we would love to pray for you! Fill out the form below to talk to an online mentor.
To find out more about Jesus, click here to learn about what his death on the cross means for you.
To learn more about the DRIME ministry, and stay updated on the team in Kenya and around the world, click here to find out how to get connected!