Janete | DRIME Brasil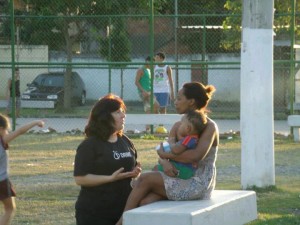 I spoke with a woman named Rose during a DRIME presentation on a recent mission trip in Rio de Janeiro. She told me she had heard from God and attended church for some time, but was rejected because people had wrong perceptions of her. She also did not have a good relationship with her family.
I asked if she had ever had an encounter with Jesus as her Lord and Savior. She told me that no one had ever asked her that question. I encouraged her to return to a church and to invite Jesus as her Lord and Savior. She said yes, that what she wanted most was to be able to live her life and be happy, and then we prayed together.
I invited her to attend the church where we were at that moment, and to my surprise that night, there she was! Since our conversation, she has been accompanied by a leader to that church. The church has followed up with Rose, and has talked to her of God's love. Please pray for Rose, because her children do not believe in God. Pray that as they go along with her to church that they would begin to recognize God's love for them.
Did you attend church when you were younger, but stopped for some reason? What's keeping you from going back? We would love to hear your story – leave us a comment below, or fill out the form below to get in touch with an online mentor who will pray for you.