DRIME recently went on a mission trip to Tanzania. Here are some reflections on this experience from one of the trip leaders. 
By Evelyn Y.
I had the pleasure of co-leading a DRIME missions trip to Tanzania. We had 3 team members from Canada, 2 from DRIME Kenya, and 5 local Christians from Lindi.
Our Tanzanian friends learned the DRIME dramas from us and went to villages with us every day, doing the dramas and also sharing their testimonies. They found the dramas to be a powerful new tool, and someday they hope to become an official DRIME team. For now they are planning to continue practicing and bringing the dramas to the many other villages in the area.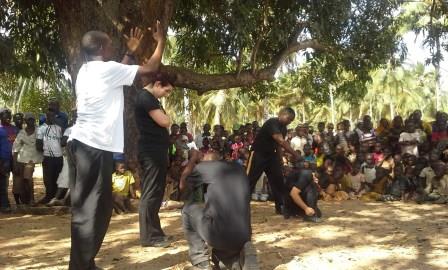 "Do you know the Bible very well?"
This is what a teenage boy asked me as we finished our presentation in a village that was largely Muslim. I admitted that I didn't know it all, but that I had a Bible and we could discuss it if he wanted. After I grabbed my Bible from the car, Ryan started by asking "Who is Jesus?" and opened to John 3:16, in which Jesus is referred to as God's son.
The intensity in his face and quick pace of his questions made me think that he was trying to start a debate, but I quickly learned that he was just hungry for truth. "My father is a Christian and my mother is a Muslim. I am older now, and I can choose for myself."
Like many other Muslims that we met, Ryan had heard some things about Christianity but yearned to read the Bible for himself to find the truth. We introduced him to the local pastor, whom he knew of but had never approached before. Would you pray for him as he continues to search for the truth?
3 Canadians + 2 Kenyans + 5 Tanzanians + a few dramas + 1 vision = 69 new believers 
69 adults prayed to receive Christ in the 12+ villages we visited (and 30 children!). In each village, the local pastor would be with us and connect to the new believers, in order to disciple them in their new walk. I am so grateful for this experience!
Want to see some pictures from the trip? Click here!