Thinking about heading out on a mission trip with DRIME? We would love for you to join us!  Here are some stories from past mission trippers about some of their unforgettable experiences to give you a glimpse into what the trips are like: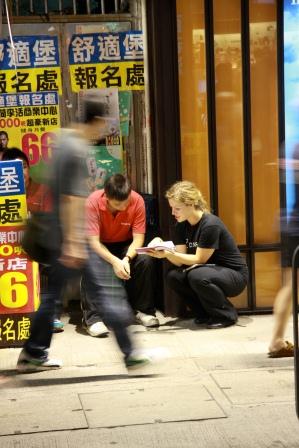 "One of my most meaningful conversations was with a younger Thai man named Som who told me he had lived in the United States with a Christian family and attended church with them on Sundays. Now that he was back in Thailand with his wife, he had a lot of questions about the idea of God and how to reconcile it with his Buddhist culture. He struggled with feeling like he would be turning his back on his family if he made the Christian God his one and only God. I encouraged him and addressed a lot of his questions about church as well as other things, then I prayed with him and his wife. My prayer for him now is that he will discover for himself that having a relationship with God is the most important thing for him to have in his life."  – Rich, Thailand 2012
"When we were visiting families in the community, we met a woman named Flora who was worried about feeding her 5 children. We shared some food supplies we had brought with us and asked her if she had heard of the church in the village. She said she had, and had been a few times. I felt prompted to ask her if she knew about Jesus and had a relationship with him, and she responded that she didn't. Our translator then shared with her about how we have access to God through his son Jesus, and how he stands and knocks on the door our hearts. We invited her to consider a relationship with Jesus, and she eagerly accepted. We visited her again two days later, and the change in her home was incredible. It was tidier and even felt more peaceful that it had when we first visited. We prayed over her home and brought her a Bible and a pen, which we used to underline key verses that she could revisit when she doubted. I will never forget realizing how life-changing the gospel truly is, and how it can change a community, one person at a time." – Beth, Mexico 2012
"Virote had stopped going to church two years ago but something stirred in his heart when he watched the dramas during one of our ministry performances. 'For the past two years, I didn't even feel like reading the Bible. But now I want to reconnect with God,' he told us. A local believer was ministering with us that day, and she invited him to go to a cell-group that met nearby.  At the end of our conversation he said, 'Before today, I didn't think God still cared for me – but now I know He does.' It was God that prompted Virote to walk to that market and meet us that day; he already knew the gospel – we were just God's vessels!"  – Evelyn, Thailand 2012
Interested in joining DRIME on a trip this summer? We are heading to Calgary and Tanzania – click here for more information and pictures of past trips!