Written by Chad, DRIME Calgary Leader
We were out to the streets for our very first night of ministry as team DRIME Calgary. Everyone was a little apprehensive and not everyone knew what to expect, but we prayed and asked for God's favor on the dramas and our conversations. And boy did he ever grant us favor!
After doing a number of dramas and having some good conversations, during one of the dramas a man came up to us and fell to his knees. He proclaimed that he was a sinner and wanted forgiveness. He grabbed my leg and clung to me, so I started praying for him. Our whole team gathered around to provide prayer and support. He just kept repeating over and over that he was a sinner and wanted forgiveness, and was repenting from his sins!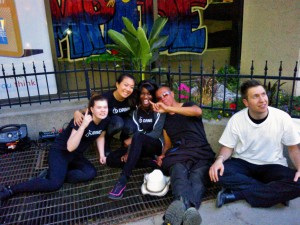 After about 20 minutes, Esther (one of the team leaders) led him in the sinner's prayer, and I took the man off to the side so the team could continue ministering to other people. I found out his name was Chris and his recently passed away father was a preacher. Dad sure would be proud if he could have seen his son then and there!
Chris and I ended up talking about angels, and he told me the reason he fell to his knees and repented was because he had seen angels surrounding us as we were performing the drama. I told him the angels in heaven were celebrating their new brother in Christ as we spoke.
After sitting together and chatting some more, Chris pulled out a small bottle of alcohol. He said he was considering drinking it right then, but I suggested he should either put the bottle away or pour it out. We were sitting on top of a grate with a large empty space beneath it, so he decided to dump the alcohol out immediately. He then pulled out two packages of drugs, and dumped those down the grate too.
God gave me the opportunity to chat and pray with Chris for a while longer until our scheduled ministry time was over. So I blessed him one more time, and then we parted ways. I know that God surely has good things in store for his new son, Chris!
DRIME Calgary is our newest DRIME team, and  they are just starting their ministry this summer. Please join us in praying for them!
To stay up to date on the latest news from DRIME Calgary and the DRIME ministry, please subscribe to our e-newsletter!