Stories by Eva | DRIME Kenya leader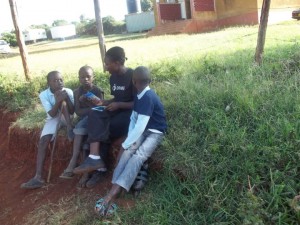 One day as I was walking in my DRIME clothing to our location for street ministry, two 8 year old girls who started pointing at my shirt saying "We know you!" I asked them "How do you know me?" They said "We saw you doing dramas the previous week." They continued asking me why I was not doing the dramas today.  I told them we are doing ministry at a different place. Then they asked me who was that person having a red scarf (satan) and a white shirt (Jesus), because that one with a red scarf was so scary. I explained the story of the drama to them and that was the beginning of our conversation. At the end they told me that they want to give their lives to Jesus. So I prayed with them and they received salvation.
During ministry an old man, aged 85 years, was watching the dramas, and we approached him asked him if he was saved. He said "Yes, I know the Lord  but I have no strength to go to church every Sunday." We shared the Gospel with him, encouraged him and prayed with him. Then at last he told us that no one has ever come to him and shared the way we did. All along he knew that old people have been neglected in the society because nobody is interested to to stop and listen to them. We read scriptures to him and later he came to understand how God values and cares for him. This made him so happy and changed the way he was thinking.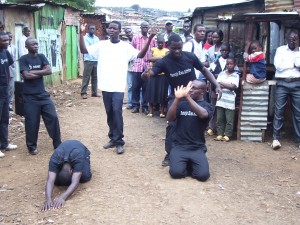 There was this woman, who after watching the dramas came to us. She was drunk. She wanted to know why we have accepted to make ourselves dirty by falling on the ground don't we have better things to do? We told her it is because of Christ. Then she said, "Right now I am drunk, but take my number, come to my house next time and explain to me." We did follow up and right now she is restored back to God and is now attending church. Her son is now doing dramas with our team, sharing the message of the gospel with people like his mother, who was brought back into the light.
Interested in what DRIME Kenya is doing? We are going on a mission trip from August 9-25 this year to visit our team, encourage them, and do ministry in Nairobi. We would love to have you join us!